Are you a mom that's tried to start working out but then quickly lose motivation? You're not alone! The truth is that staying consistent with exercising, especially when you have kids, can be hard. But it's also so rewarding and worthwhile. In this blog post, I'm going to share with you my top tips on how to stay consistent and make sure your workout routine actually sticks – no matter how chaotic your schedule gets! Let's get right into these tips on how to stay consistent with working out in 2023 (for those who haven't quite made the leap yet!).
How To Stay Consistent With Working Out
1. Set Realistic Goals
When starting a workout plan, it is important to set realistic goals. If you are new to exercise, it is unlikely that you will be able to commit to exercising for an hour each day at the gym. Instead, start with a goal of exercising for 20-30 minutes each day and gradually increase the amount of time you exercise as you become more comfortable.
​
2. Find an Activity That You Enjoy
If you find an activity that you enjoy, you will be more likely to stick with it. There are many different types of workouts, so there is sure to be something that you enjoy. If you don't like running, try swimming, cycling, or weight lifting. You may even want to try a new type of exercise class such as boxing or Pilates.
Here are a few sample workouts with varying styles to get you going:
The perfect ​30 minute total body​
​Try this 38 minute boxing​
​Low impact 14 minute pre/postnatal​
​
3. Set a Regular Schedule and Stick To It
In order to make exercise a habit, it is important to set a regular schedule. If possible, try to exercise at the same time each day. This will make it easier to stick with your routine. Additionally, if you know that you have a set time for exercise each day, you will be less likely to make excuses not to do it. Whether you work out in the morning, afternoon, or evening, make sure to set aside time each day for your workout. Once you have a set schedule, it will be easier to stick to your workout routine.
4. Find a Partner
Having a workout partner can help to motivate and encourage you. If possible, find someone who has similar fitness goals as you so that you can help each other reach your goals. You can also join the Pray, Sweat, Slay community where you will meet other ladies who are interested in staying fit and healthy. Having someone to hold you accountable will help you stay on track with your workout routine.
​
5. Reward Yourself
After reaching your fitness goals, be sure to reward yourself! This will help to motivate you to continue exercising and reaching new goals. When I finish a new workout program start to finish, I love buying myself a new set of workout clothes or an indulgent treat to celebrate!
6. Join a Gym or Fitness Class
If you're having trouble staying consistent with working out on your own, consider joining a gym or fitness class. With a gym membership, you'll have access to all the equipment you need to get a great workout. And with a fitness class, you'll have the support of other people who are trying to stay fit and healthy.
​
7. Track Your Progress
Tracking your progress is another great way to stay motivated when working out. Keep track of how often you work out, what exercises you do, and how long you do each exercise. Seeing your progress over time will help you stay focused and motivated to continue working out.
8. Don't Beat Yourself Up
If you miss a day of working out, don't beat yourself up about it! Everyone has off days and that's perfectly normal. Just make sure to get back on track as soon as possible and don't let one missed day turn into two or three missed days.
9. Finish What You Start
There's no better feeling than completion. Completing a workout program from start to finish is incredibly rewarding and will help keep you motivated. The workout programs my community and I do have calendars we can check off so we always know exactly which workout to do and which day of the week to complete it. This way, you can track your progress and stay motivated.
10. Switch It Up Every 4-6 Weeks
To keep your body challenged, switch up your routine every 4-6 weeks. This will keep you from getting bored and also help to increase the efficacy of your workouts. Try adding a new exercise or two each month, or switching to a completely different workout program or class so you don't hit a plateau.
Staying consistent with working out in 2023 can seem daunting, but these tips will help you stay motivated and focused on your fitness goals. Remember to set a regular schedule, find a partner or join a community for support, reward yourself when you reach milestones, track your progress over time, don't beat yourself up if you miss a day here and there, finish what you start, and switch it up every 4-6 weeks. With the right mindset and enough dedication, anyone can make exercise part of their daily routine this year!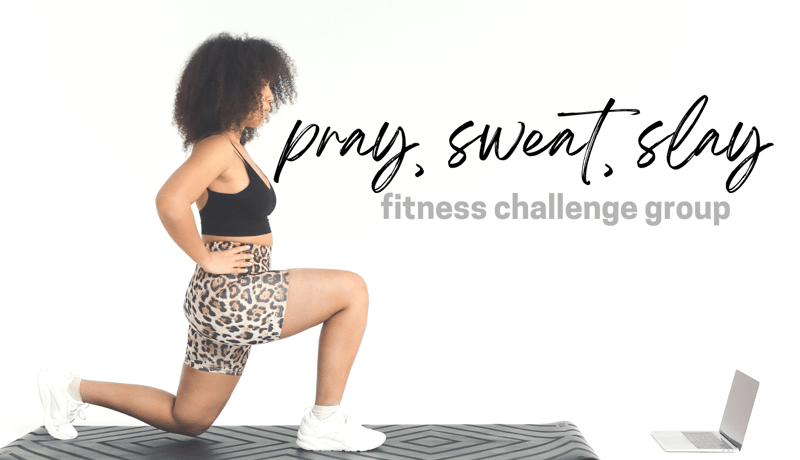 LOSE YOUR MOM BELLY
If you need the extra accountability to stay motivated, join our fitness accountability community:
The Pray, Sweat, Slay community is an accountability group for moms that will provide you with workouts that can be done at home or the gym, at any time that suits you! You'll also have access to nutrition programs and guides. We also meet every first Sunday evening of the month for Bible study and encouragement!
​
There are three options for sign-up:
The Slay Package (Your choice of supplement, 12 months of workout access, portion control containers, monthly meal plans, recipes, and lifetime access to the community) Starts at $160
The Sweat Trial (14-day trial and then 3 months of workout access, portion control containers, monthly meal plans, recipes and 3-month access to the community) $85
Pray Sweat Slay Membership (monthly meal plans, recipes, accountability, and coaching inside our community) $7/month
TO JOIN, FILL OUT AN APPLICATION BELOW:
Octavia Steen is an NBDA certified fertility doula, health coach, certified fitness nutrition specialist, aspiring missionary with the COGIC, and owner of Mother Mindset. She helps future and current mamas become more consistent in faith + fitness and grow closer to God so they can create a healthier lifestyle from the inside out!